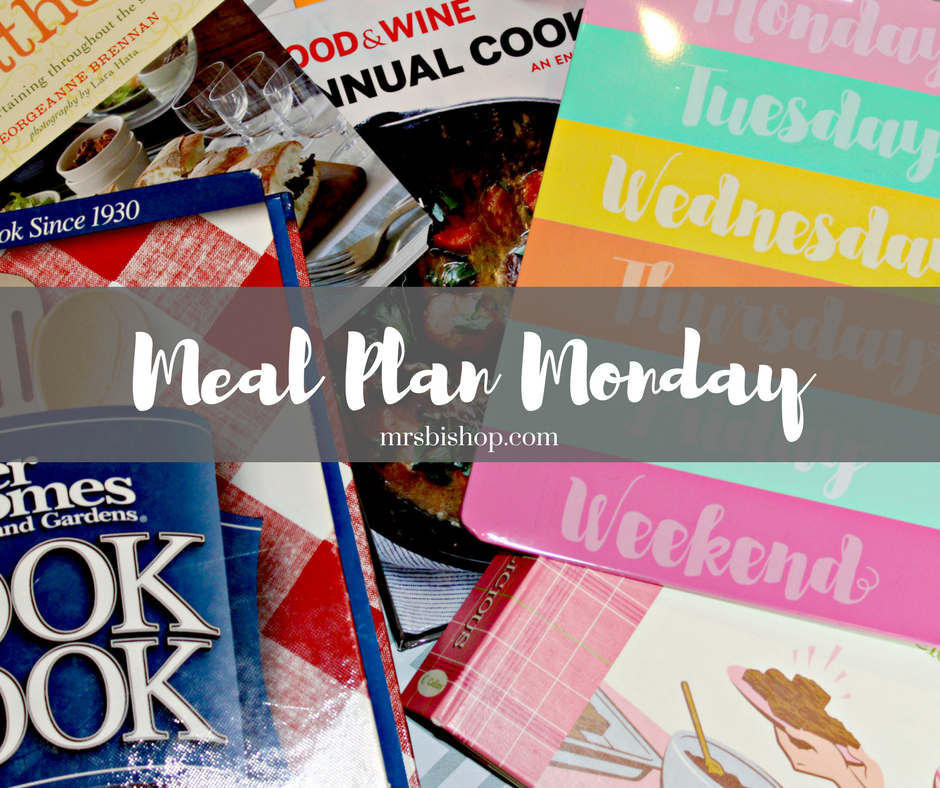 In an effort to be more productive and use my time more wisely, I am going to start meal planning again. And I thought, "why not go ahead and share it with my readers as well?"
Some people think that meal planning takes a lot of time, and it does take a bit of time- but it saves you SO MUCH time the rest of the week. Or, if you do like me and plan your meals 2 weeks in advance, you really only have to think about your meals twice a month. That is a HUGE time saver. And then I don't spend every morning standing in front of the fridge trying to decide what to make for dinner.
Most weeks I'm going to try to keep it pretty much the same at least for awhile. Sometimes it's a little easier to assign each day a category so that your meal choices are easier. Here's my categories:
-Meatless Monday
-Taco Tuesday
-One Pot Wednesday
-Anything Goes Thursday
-Fast Friday
The meals I chose for the next 2 weeks are all ones I found either on Pinterest or in magazines, so I'll give credit to wherever I got them. Some are quick and easy, while some take a little more time. I also tried to stay on the healthier side, because new year and all.
Week 1:
Meatless Monday- Ricotta Dumplings from Woman's Day Magazine.
Taco Tuesday-Steak Fajita Bowls from Little Spice Jar
Wednesday- Meatloaf and Roasted Veggies (all on the same pan) my own recipe- I'll share mine soon!
Thursday- Crispy Mustard Chicken from Woman's Day Magazine
Friday- Roasted Cauliflower and Chickpea Salad from Week of Menus (this I've made before and lurved!) My picky eater probably won't touch this one- I'll make him a pizzadilla or grilled cheese…
Week 2:
Meatless Monday- Creamy Tortellini w/ Sweet Potato and Spinach from Kitchn
Taco Tuesday- Baked Taco Egg Rolls from Awkward Kitchenette (I thought my picky eater might even go for this!) I'll throw some steamed veggies into the microwave or prep a bagged salad as a side.
One Pot Wednesday- Smoky Black Bean Soup from Woman's Day (Slow cooker recipes are the best!)
Thursday- Leftovers, because I know there will be plenty at this point!
Friday- Take out! Reward ourselves for eating good all week. And maybe we'll even have a date night?!
As you can probably tell, I fell in love with the Weeknight Meals section of my Woman's Day Magazine from a few months ago. I tend to hold onto old magazines just for the recipes, because I'm a little old lady at heart! Let me know if you try any of these and I'll try to update pics of when I try the recipes on my Instagram– if you don't already follow me over there, please do!
Next Meal Plan Monday I'll try to include a few of my own recipes or favorites from some of the cookbooks I have lying around. Let me know if you would like me to include a grocery list with my meal plans as well. Next week I'll share some meal planning tips, since my meals are already planned for the next 2 weeks!
What are some of your no fail dinner recipes that you like to include in your meal plans?
*I also want to re-state that these ARE NOT my photos or recipes, and I've linked them all to the original posters. Please go leave them some love if you try the recipes. I always want to make sure and give credit where it's due!*