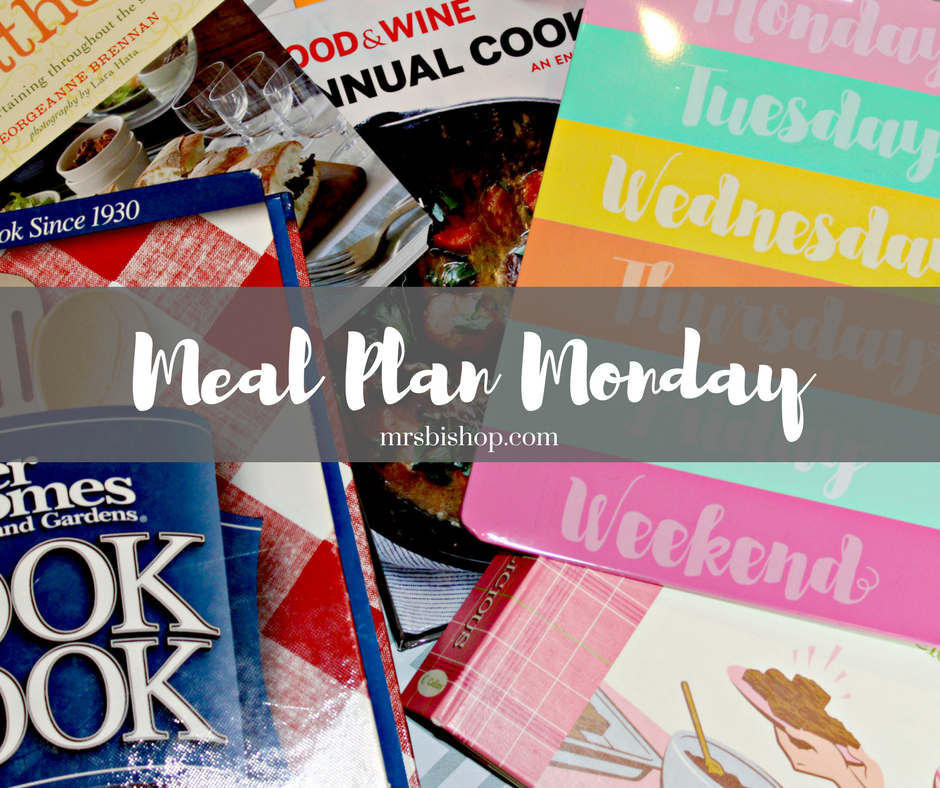 I didn't have as much time this week to meal plan- so I only planned it out for a week in advance this time. I also wanted to clear out some of the groceries I already have, so I planned my meals accordingly. ALWAYS work with what you already have because it will save you so much money- check out my Meal Planning Tips and Tricks to help you!
This Week's Plan is alot like the first week: Meatless Monday, Taco Tuesday, Crock Pot on Wednesday, but it helps me to pick meals more quickly. And we love Taco Tuesday- who would want to stop that?
Meatless Monday- Roasted Cauliflower and Chickpea Salad: You may notice that this was in the last meal plan I made. Guess what? It didn't get made, because plans change… so I pushed it to this week. Don't be too hard on yourself if your plan gets changed. Life happens.
Taco Tuesday- Tex Mex Burritos. This is a recipe that my Mom made all of the time when I was younger. I'll share the recipe with you soon!
Wednesday- Crock Pot Chicken and Dumplings. This is one of my tried and true recipes. This time I'm using a whole chicken because I have one in the freezer.
Thursday- Sausage and Red Wine Couscous. This is something I made up, I'll try to share that recipe soon as well. It's just chicken sausages sauteed with mushrooms, onions, and red wine. Served up alongside couscous. Super easy, light and delish! Meals don't have to be elaborate to be tasty.
Friday- Burgers and Waffle Fries. Hubby got some amazing grass-fed beef on sale, and I have been craving a good burger for weeks! Little man made me buy waffle fries because he's obsessed with Chick Fil A. We'll probably have a bagged salad as well so I don't feel so guilty about the giant burger…
These meals should also leave plenty of leftovers for the weekend! Win-win!
That's it! This week was super simple, and I already had most of the ingredients on hand! I didn't add in pictures this time, because I wanted you to be able to skim it quickly for ideas. What are you cooking this week? Are there any recipes you would like me to share with you?
Stay tuned and don't forget to subscribe to stay up to date on my meal plans and recipes!