*This post may contain affiliate links*
Mommy Monday is back! Hooray! Now for your weekly dose of tips and tricks to make your days as a busy Mommy go a little smoother.This week we're talking about Super Quick Cleaning Tips.
Now that summer is upon us, and we have absolutely no time for that "Spring Cleaning" we were into a month or two ago, I'd like to share with you a few easy tips to keep your house from getting out of control (especially now that the kiddos are out of school.)
– Buy yourself a spray mop. Swiffer Wet Jet, Cedar Mop, etc. There's no time to dig out the old mop and bucket. These are great because you just fill them with your cleaner, spray and mop. And it dries much quicker. (I use the Cedar and love it, because the pad is washable- no refills!)
– Every morning when I'm done washing my face, I wipe down my sink with the rag I just used. Super quick!
– Sometimes I set a timer and pick up as much clutter as I can in that set period. I also use this for doing dishes…I am one of the sad, sad people that don't own a dishwasher.
– Have a clutter "zone" where you throw all the clutter you pick up from each room. That way you can put it all away at once.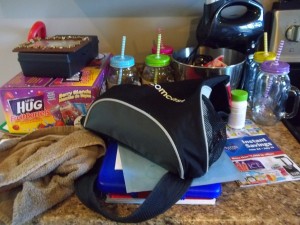 – Grab some Swiffer Dry Cloths and do a quick dusting over all your furniture. I do this a lot when I have people coming over, because I really hate dusting!
– Do a LOAD of laundry a day. I get up in the morning, and throw clothes in. That gives me all day to get them in the dryer and put away. (The sound of the dryer also helps my little one nap- BONUS).
– The day before Garbage Day, I empty the trash in every bathroom/laundry room/etc into a big bag.
– Get your kids involved! Yes, even the toddlers. My little guy loves to wipe down cabinets, and he helps pick up toys, stack up his books, etc. I look forward to the day when he can wield the vacuum!
– Reward yourself: sometimes I give myself some motivation. Chocolate, a nap, reading time. I say to myself, "If I get "whatever" done, I can do this fun thing later." I know it seems too simple, but I will do almost anything for a nap!
Also, for the love of all, buy yourself some paper plates! I talked about how we like to throw Impromptu Barbecues… and they are a huge mess if we have tons of dishes left over. It's okay to take a break every now and again!
What are some of your quick and easy summer cleaning tips?
If you need some bathroom cleaner and you're out- you can make it at home! Here's my Homemade Bathroom Cleaner recipe!