Last week when I posted my Fall Faves, I had a lot of inquiries about certain brands. So over the upcoming weeks I'll be sharing some of my one brand favorites. There are several brands that I swear by, and I thought it would be fun to share some of my favorite products from each one! I've been slacking off on my beauty posts lately, but you know I'm passionate about my beauty products and could talk about them all day sooo….
First, I'm going to share my Physician's Formula favorites with you. I love this brand because it is so readily available to everyone. It's hard to find great products for sensitive skin that are actually decently affordable and really work. But, most of the time Physician's Formula kinda knocks it out of the park. It was hard to narrow down my picks- but here they are: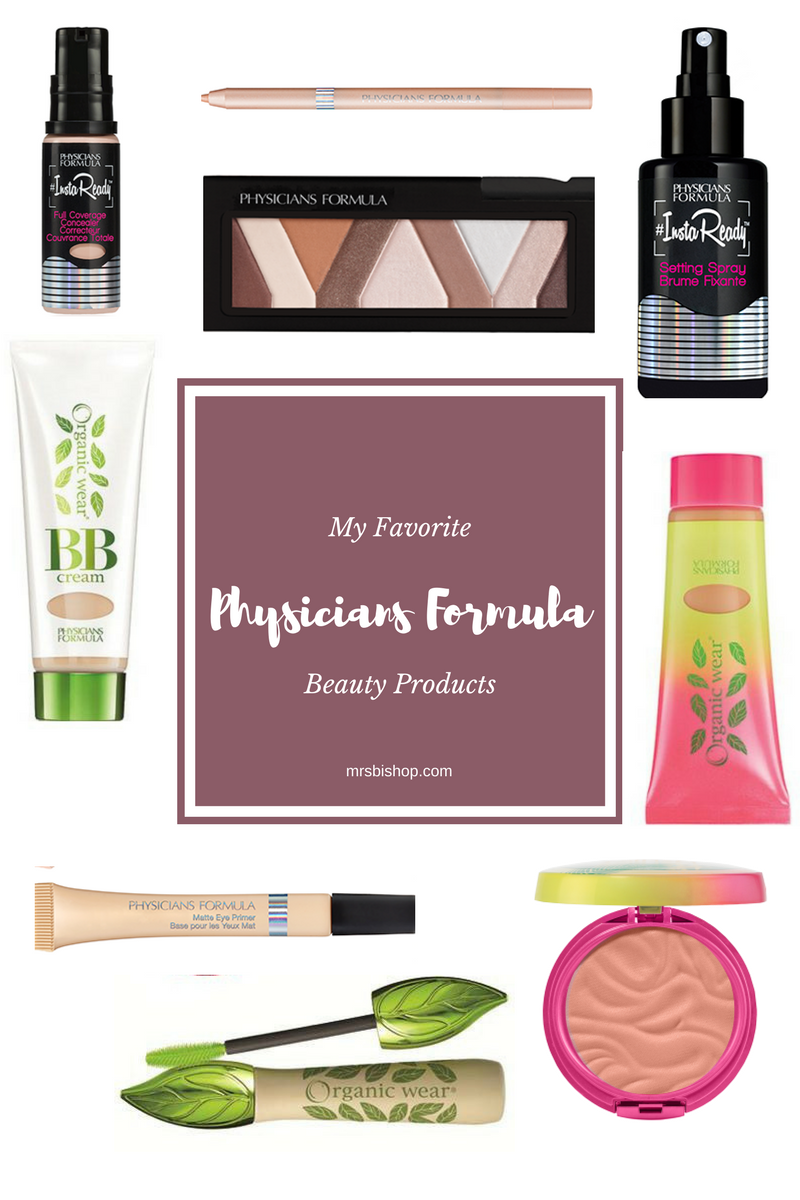 The Insta Ready and Organic Wear lines are featured heavily- and I haven't tried their 80th anniversary products yet (but I can't wait to get my hands on them!). But, these are products that I have purchased over and over again- and will continue to do so.
The #InstaReady Full Coverage Concealer is great. I use it on days when I have a lot of problem areas, because it is really full coverage. It works great on my undereyes and blemishes, and stays all day and doesn't settle into my lines if I set it with a powder. I almost always have this on hand. The pump takes some getting used to, and tends to dispense a little too much product. But, I fixed that by using a brush to spread it out and patting it in with a beauty sponge. Good concealers are hard to find- and this one will only run you about $10. It also lasts a fairly long time, which makes it a good bang for your buck.
The Organicwear BB Cream and Work It Tinted Moisturizer are my go to foundations. They use pretty great ingredients and are extra gentle on my super sensitive skin. The BB Cream has a medium coverage and is my pick for most every day. The Tinted moisturizer makes its appearance all Summer long when I need a lighter coverage, but will be hot and sweaty, and out in the sun. It's also great for wearing during workout if you're extra like me, and don't go anywhere without makeup on. I have switched so many people to these products, because once they try them they usually fall in love with them. I buy them over and over and over and over again- you get the picture.
The #InstaReady Eye Primer Duo is holy grail status! I use the Matte Eye Primer every single time I wear eye makeup. I have oily lids (which sounds disgusting when I say it), but eye shadow tends to wear off. When I wear this eye primer, it stays in place all day. I couldn't really care less about the Shimmer one, it's okay. But, they come in a set together, so what can you do? I'll definitely keep this on hand all the time from here on out.
I love using this #InstaReady Glide-On Gel Liner in Champagne to highlight my inner corner and to brighten up my eyes on tired days. Mom life. It has just the right amount of shimmer for a glowy look- but not chunks of glitter, which can happen with a lot of similar products. I just started using this, but I've really liked the overall look every time.
This Butter Blush in Vintage Rouge is just the perfect blush for a light flush of color. It's not too bright, but just the most beautiful shade of pink. I think it's a Wal Mart exclusive- correct me if I'm wrong. But, you can also get it on their website. I've been reaching for this pretty much every day because it works with most of my makeup looks. The buttery formula also just glides onto your skin and it's so light! I have a secret to tell you though….I've never tried their Butter Bronzer. Shh…it's next on my to-try list.
The #InstaReady Multi-Finish Palette in Natural Nude is a newer purchase that I've been reaching for. I love the shades in this palette. I tend to gravitate to neutrals and nudes pretty much always, but especially this time of year. They're not super pigmented, but they get the job done. And I love that it contains both matte and shimmer shades so I can get a nice look with just this one palette. Which also makes it perfect to travel with.
If you have super sensitive, reactive eyes like I do, this Organic Wear 100% Natural Origin Mascara is the drugstore mascara you need in your life. It isn't waterproof, and it does transfer a little, but I'm willing to give it a little grace because it irritates my eyes exactly 0%. And when you have super sensitive skin- beggars can't be choosers. I love all of the Organic Wear mascara formulas that I've tried and I'm using the Fake Out Mascara as we speak, but this will always be my fallback.
I just bought this #InstaReady Setting Spray 2 weeks ago, but I've really been impressed with it. It has rocketed up to the top of my favorites very quickly. The spray nozzle on this is amazing! It is a super light formula and spreads so evenly on my face, and sets my makeup without making it feel like I hosed my face down with hairspray. I'll definitely be picking this up again and again. And the price point is great for a setting spray (less than $13!).
I definitely love a lot more products than just these from Physician's Formula, but I have been rocking most of these pretty much every day lately.
Have you ever tried Physician's Formula? What's your favorite product? What would you recommend I try from them next?
*I purchased all of these items with my own money.*