*Disclosure- Teacher Created Materials sent over these books for me to try out. All opinions are my own.*
I'm back with some more great supplements for your homeschool curriculum! I've loved scouring stores and online to bring you great resources to aide you in your homeschooling journey. Fellow homeschool parents, you're not in this alone!
Teacher Created Materials makes products for teachers, by teachers. I'm a homeschool mom AKA homeschool teacher. So, I too can appreciate this! They have a HUGE array of classroom materials, curriculum resources, and SO much more.
It was so easy to find what I was looking for on their site, because I just clicked on Kindergarten, and there were all kinds of activities and resources available at my fingertips.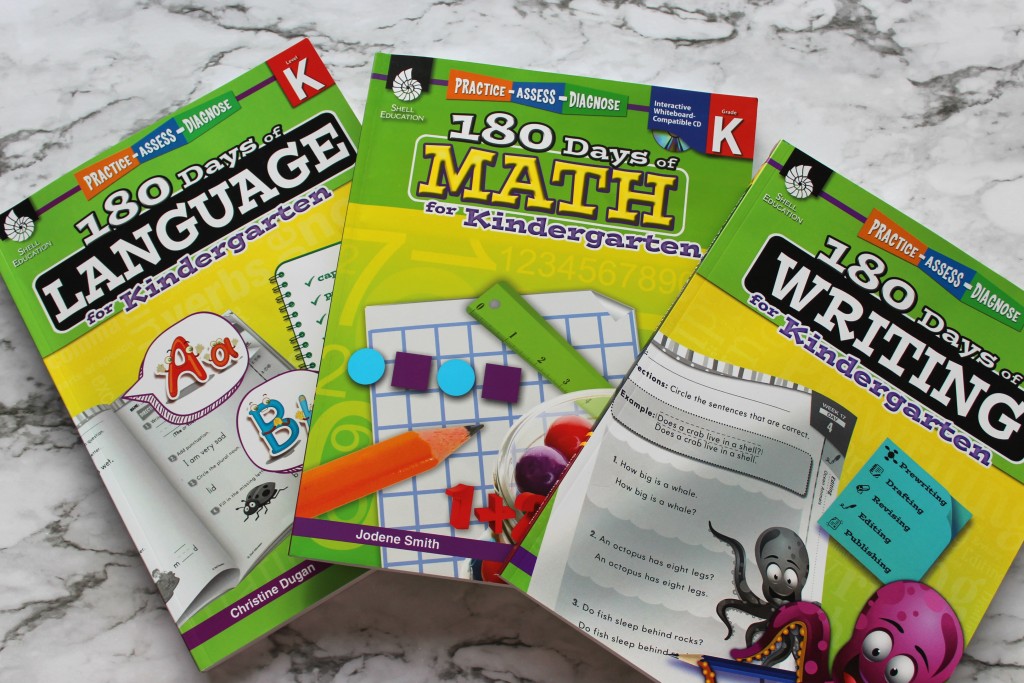 These 180 Days of…books have been a great addition to our curriculum. Especially since I have a little guy who is not a huge fan of writing- I've been trying to add lots of writing for him in fun and inventive ways.
Since we were just about half-way through the year when we discovered these books, I've just been having him do 2 pages a day so we can get through them. They're simple enough that he can read and understand them on his own, but they get more challenging over time.
They're short, but sweet. He learns all sorts of different things at a time. Like counting, addition, shapes, weight and more in the 180 days of Math book. As he gets farther along they get more challenging, but aren't overwhelming.
I've been using the 180 Days of Writing book for his nightly 'homework' and he loves running up to me so I can 'check his work.' I can see his mind working and how much he's learning, even when I'm not the one teaching him.
The 180 Days of Language book is great for reviewing his punctuation, tenses, plurals, and of course reading and writing. It's probably his favorite. I've really seen his grammar skills improve in the weeks since we've implemented these books.
I love how each book is broken up by day, but you don't have to follow them that way. The grading scale on the side of each page allows him to see right away what he needs to fix, and helps me keep track of what he needs to work on.
They also sent over these Core of Writing and Essential Math Skills books, which I can use to keep track of what he NEEDS to know before moving on.
They're full of great ideas for activities we can do to reiterate what he's learning, and to help me keep track of the progress he's made.
I'm so thankful I found Teacher Created Materials. I will definitely be purchasing some of these books for his First Grade curriculum as well as exploring all of the other options they have. Check them out if you need some extra supplements and materials! Even if you're not a homeschool parent, but want some activities to help your children excel. These resources would be great for that as well.