So, tonight I decided to try a new recipe…well I decided yesterday, but I was too tired after church last night, so tonight it was. The recipe was for
Apple Cranberry Crisp
. I love apple crisps, and I've also been doing the
Homey Goodness Challenge
over at
Crazy Domestic
. One of the challenges is to make something with apples, so here goes. I posted the recipe, but I'll go ahead and write how I made it:
Apple Cranberry Crisp
2 pounds Granny Smith apples – peeled, cored and thinly sliced
3/4 cup cranberries
1/4 cup white sugar
3 teaspoons ground cinnamon
1 teaspoon ground nutmeg
1/3 cup quick-cooking oats
1/3 cup all-purpose flour
1/2 cup packed light brown sugar
1/4 cup butter, cut into pieces
1/2 cup chopped pecans
Directions
1.) Preheat oven to 375 degrees F (190 degrees C.) Butter an 8 inch square baking dish.(I used a round, deep dish pie pan, and it worked really well).
2.) In a large bowl, mix together apples, cranberries, white sugar, cinnamon and nutmeg. Place evenly into baking dish.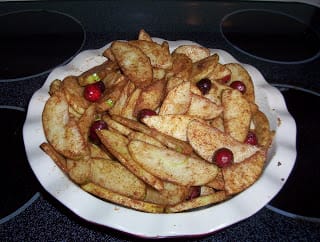 3.)In the same bowl, combine oats, flour and brown sugar. With a fork, mix in butter until crumbly. Stir in pecans. Sprinkle over apples.
4.)Bake in preheated oven for 40 to 50 minutes, or until topping is golden brown, and apples are tender. 
 And, just because I wanted an appley-yummy drink to go along with it:
=
It was really good. The pecans were super crunchy, and gave it a nice flavor. It looked like there was a lot of cinnamon in the recipe, but it turned out to be the perfect amount. The Granny Smith Apples held up really well, and still had a slight crunch, but were tender and sweet. The cranberries burst while baking and added their own sweetness as well. The cider was also a nice compliment. This is definitely a recipe I will make again!