Let's face it- a large portion of our Holiday festivities are centered around the consumption of delicious food. But, I also start to get tired of cooking. Because, apparently my family still needs to eat regular meals. Every.Single.Night.
So, I threw together some quick and easy appetizer recipes that you can bring to any Holiday party. They're delicious and everyone will love them. Even better- they'll only take a few ingredients and just a tiny bit of your time.
Stuffed Mushrooms
These Simple Stuffed mushrooms are an easy appetizer, because they use store bought spinach artichoke dip as a base. You can find it in your deli and there are all sorts to choose from- these contain a Greek Yogurt Spinach Artichoke and Parmesan dip that I got from the deli for around $3. Believe me, it's worth buying just to save the time.
The hardest part about this recipe is cleaning and de-stemming the mushrooms. But, I'm pretty sure you can buy that already done for you if you are super short on time. Bake them face down at 375 degrees Fahrenheit for 10 minutes and flip them over.
Meanwhile, brown a pound of hot Italian sausage (mild if you don't like spice). Once it's cooked, mix the sausage with the container of spinach artichoke dip, a handful of Parmesan, and a couple of tablespoons of Italian breadcrumbs. No need to be too scientific.
This concoction is good by itself with chips or stuffed into just about anything. But, go ahead and fill your mushrooms with it.
Sprinkle a little bit of the breadcrumbs (I used GF!) on top and bake for 10-12 minutes.
Feel free to tweak the recipe and add or remove anything that doesn't strike your fancy. But, these have never NOT been a hit when I've served them.
Cinnamon Roll Pigs in a Blanket
Pigs in a blanket are always a classic appetizer. They may have been done to death, but I will still choose them over just about anything. These were inspired by my cinnamon roll and sausage obsessed 5 year old. The best part? You only need 2 ingredients!
Cinnamon rolls and smoked sausages. I prefer the smok-y maple flavor for the added sweetness, but you can't really go wrong. And these are just ridiculously easy.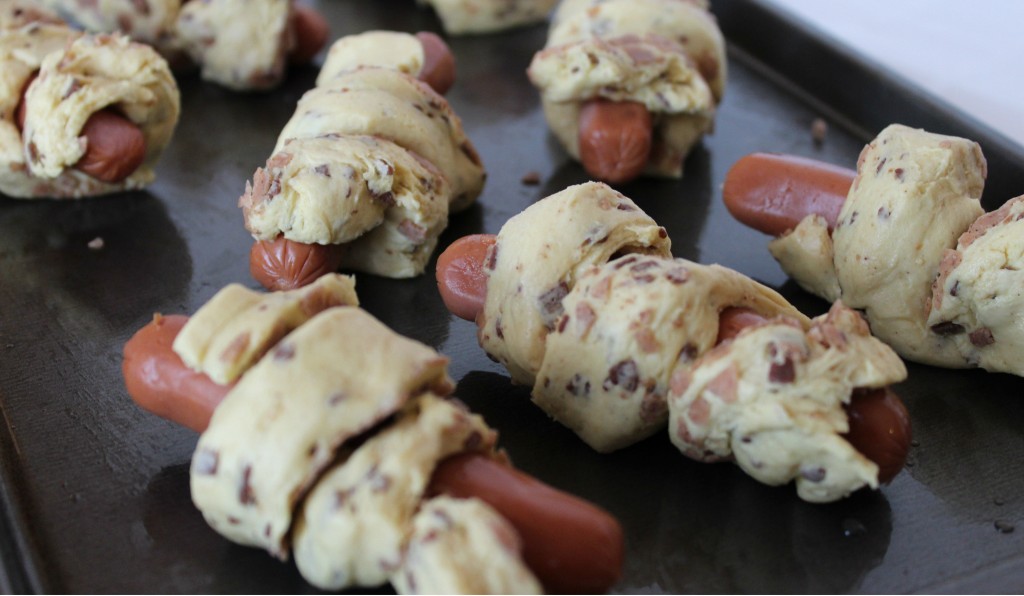 Unroll your cinnamon roll and wrap it around the sausage. That's it! (Don't make my mistake and buy the wrong kind of cinnamon rolls though, buy some that unroll a little bit easier.) Bake pretty much according to package directions- I think these took around 12 minutes.
These were a huge hit! My kiddo, my Husband, and I all enjoyed them. They'd make a quick and easy breakfast as well. I just added a teaspoon of milk to the icing to make it dippable- but you could also just drizzle the icing over the top a la a traditional cinnamon roll. Like I said, can you really go wrong with any variation of a pig in a blanket?
Pumpkin Spice Brie Bites
You can find the full recipe for these brie bites here. I've made so many variations of this recipe as various appetizers, and they've all been delicious. Basically you need some phyllo or tart shells, some sort of jam or spread, and brie. Super easy and simply delicious, every single time.
What are your favorite quick and easy Holiday recipes?
Let me know if you try one of these- I'd love to hear your feedback!