It's Fall- which means it's my goal to consume as much pumpkin goodness as I can before the Winter Holidays hit. I'm always on the lookout for tasty, easy treats I can throw together when we have guests over- and this one hit the jackpot! I've made the classic brie bites before with brie and apricot preserves on many an occasion- but replace the preserves with pumpkin butter and top with toasted pecans, and you have an appetizer or quick dessert that most everyone will love. And if they don't- you don't even need that kind of negativity in your life. Kindly show them the door…

These are seriously the easiest, no fail recipe that you can throw together last minute. We've been enjoying them often- tis the season! In less than 15 minutes you can wow your guests- if you don't eat them all before they arrive!
Gather your ingredients- all FOUR of them…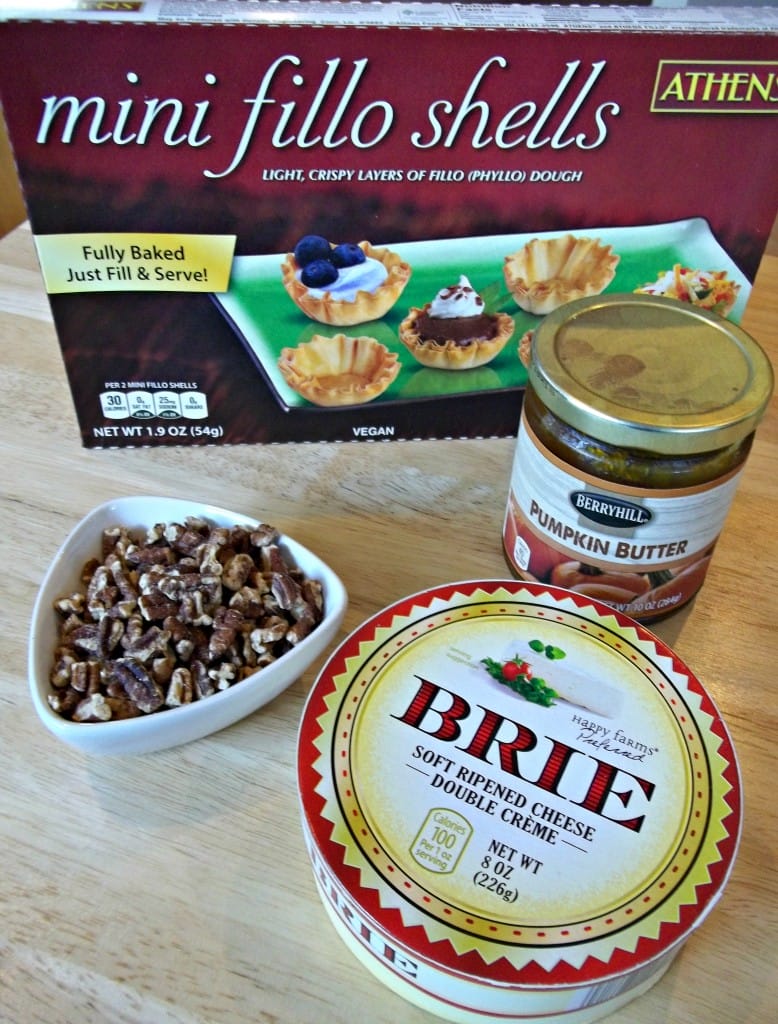 I love these phyllo-fillo-whatever shells. They can house a lot of different ingredients. And they're just plain cute! And pumpkin butter- I mean, it's delicious. I usually buy some at our local apple orchard store, but I actually got this little jar at Aldi and it was equally as good (and cheaper!). Get whatever type of Brie available to you and some chopped pecans. If you don't like nuts you can leave them off- but I wouldn't (unless you're allergic) because they add a delicious flavor and crunch that I'd really miss.
It's as easy as opening a jar and pouring out some nuts. The hardest part is that I prefer to take the rind off the cheese- I really hate the texture. Like chewing on fuzzy mold. I wouldn't recommend leaving it on. It comes off fairly easy, and the soft cheese inside is super east to cut, or heck- just tear apart with your fingers.
Fill your cups with your brie. I might have overfilled them slightly- but what can I say? I love cheese!
Top with a 'dollop' of pumpkin butter. Super technical, I know. It's mandatory you lick the spoon after you complete this task. Don't let any of that pumpkin deliciousness go to waste!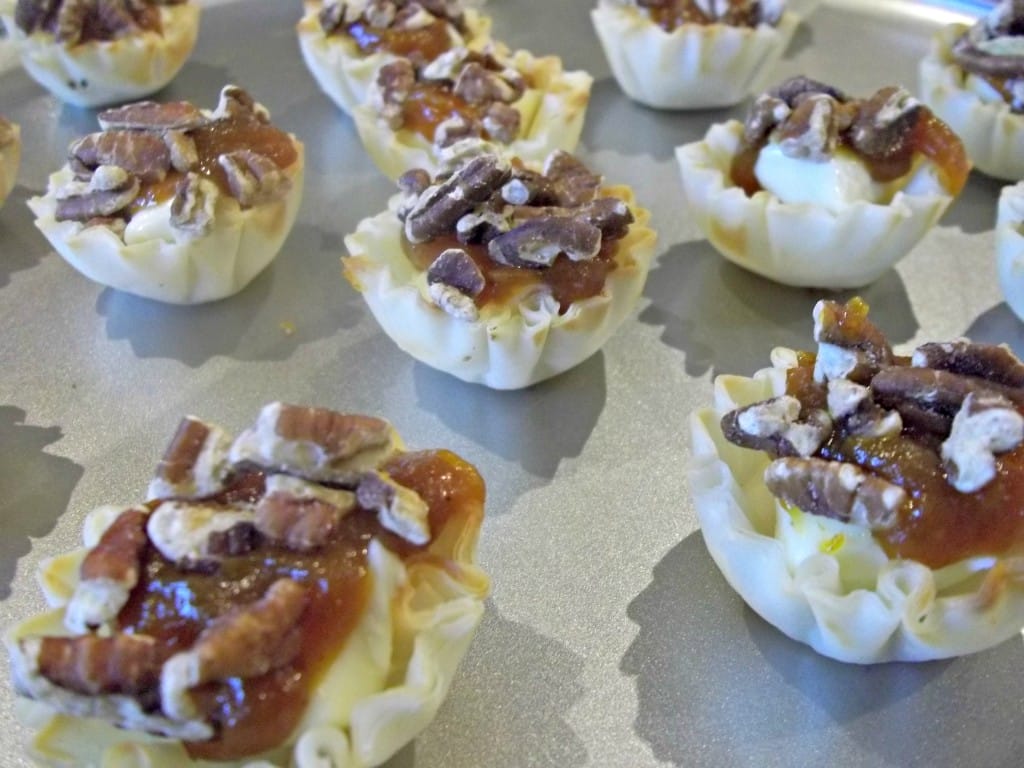 Top with a few pecans and you're ready to bake! Is this not the easiest recipe ever? I followed the directions on that back of the phyllo cups- which was 350 degrees for 10 minutes. You could go slightly longer, but you don't want your pecans to burn.
While they're baking, I recommend grabbing a delicious bottle of wine to serve them with. This local Oliver Winery Apple Pie Wine pairs perfectly with this recipe- we've bought 2 cases of this stuff. It's ridiculously good!
Once they come out of the oven, they're are perfect little bite-sized morsels that will have you coming back for more. My Husband says they're best enjoyed when you pop the whole thing into your mouth so you can taste all of the flavors at once. I'm more of a nibbler- but make them and decide for yourself. My picky toddler even enjoyed a few bites.
Are they not the cutest things to serve for dessert at parties or for pre-dinner cocktails?
I hope you take a few minutes to throw some of these together and wow your friends. If you make them- let me know what you think! I love sharing my recipes and knowing people enjoyed them!
You may also like: Cherry Cheese Tarts