I know, I know- I have not uploaded a video in FOREVER! I filmed one not once, but twice and my camera was not having it. It was an empties too- which is my absolute favorite to film. Y'all know I'm never short on opinions. But, since it didn't work out, I fell off the filming wagon. I will eventually be back, I promise. I filmed my  empties as an IG live yesterday and that was kinda fun. But, even though my filming game has not been strong, I still wanted to share with you the products I've loved this season. I have been using pretty much the same ones on repeat for the last couple of months- so here they are.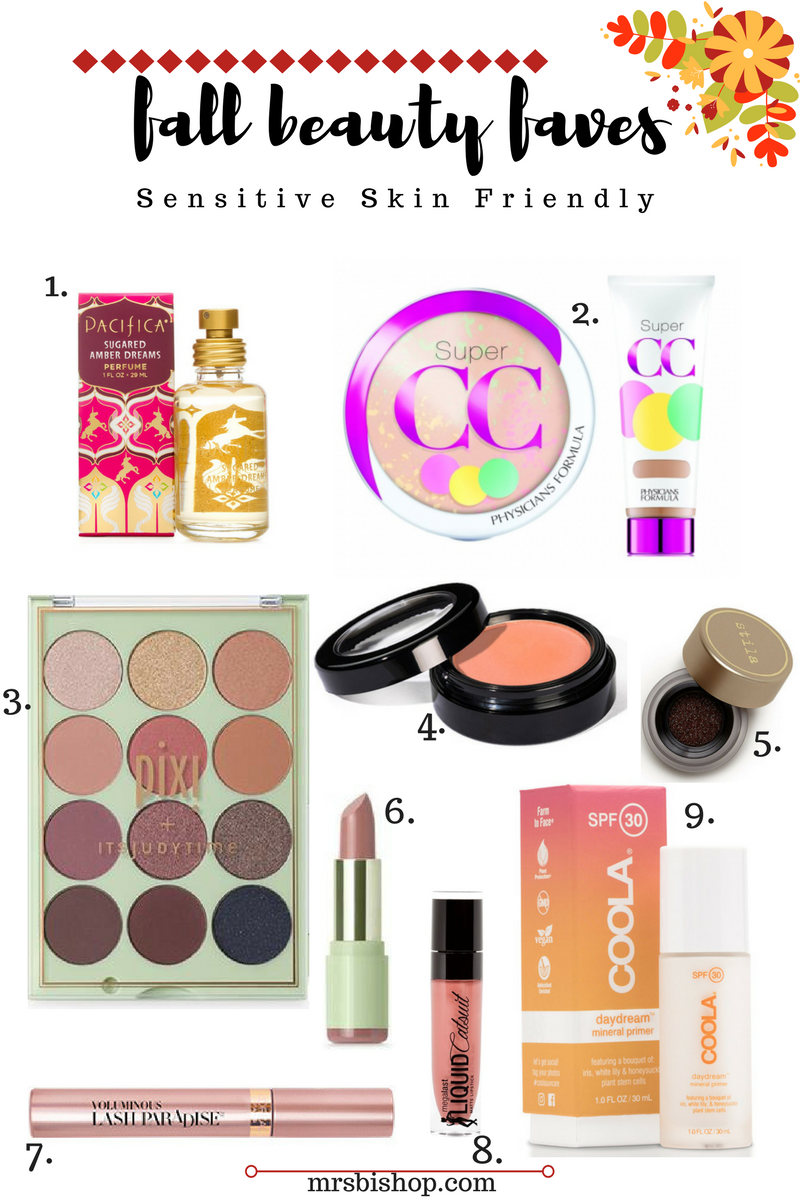 1.) Pacifica Sugared Amber Dreams– You know how certain seasons evoke different scents in your mind? Any sugary vanilla scent makes me think of Fall. I literally used to bathe myself in warm vanilla sugar. But, my skin does not like the chemical cocktail it contains. This is the next best thing. It's natural, doesn't irritate my skin or eyes, and it smells amazing! I pretty much exclusively wear Pacifica perfumes, and this one is a great one for Fall.
2.) Physician's Formula Super CC– I love Physician's Formula's makeup sets, and this line is no exception. The formula is light and creamy, spreads easily, and is gentle even on my super sensitive days. I've been dealing with some discoloration, and I love how this has evened out my skin tone without being too full coverage. My skin still shows through, but my imperfections don't. That's a big win in my book.
3.) Pixi It's Eye Time Palette– I've shared my love for the shadows in this palette before, but I've been reaching for it again lately because the warm colors are especially great for Fall. This palette still doesn't disappoint. The colors are super rich and pigmented, and work great for more smokey, dramatic looks. But, I can still wear them for everyday. This is definitely a good set to travel with during the Autumn season.
4.) Red Apple Lipstick Blush in Tango– You are not going to find a more natural and good for you blush anywhere. The true peach color of this blush gives me the perfect flush of color, one that can be worn anytime of year, but especially looks beautiful in the crisper months. Hands down one of my favorite blushes of ALL TIME.
5.) Stila 'Got Inked' Cushion Eyeliner– I picked this up on a whim at TJ Maxx, and was skeptical at first, never having used a cushion eyeliner before. But, I was pleasantly surprised. The formula was okay, but the copper color has been super fun to play with for Fall. Also, it can't hurt that you can snag it for $5 on their website right now. So far I haven't had any sensitivity issues with it either, which is always a win in my book!
6.) Pixi MatteLustre Lipstick in Rose Naturelle– If you're looking for a semi-matte lipstick that won't dry your lips out, but will last a good while, this MatteLustre formula is for you. I love the way it performs on my lips, and it really outlasts my other typical lipsticks. I've been keeping this color in my purse, because it is a perfect more natural Fall shade that you can pull off in any situation. It tastes a little weird- but I'll sacrifice a little for beauty.
7.) L'Oreal Lash Paradise Mascara– Originally, I didn't love this mascara. It was a little too wet of a formula for me. But, after using it for a few weeks, I fell in love with it. It made my lashes look beautiful, even my Husband commented on them…which has NEVER happened before. It was also gentle enough on my super sensitive eyes, and comes in at a decently affordable price.
8.) Wet n Wild MegaLast Liquid Catsuit Matte Lipstick– If you want a more matte liquid lipstick, grab this instead. It lasts a long time as well. It's super matte without being too drying, which my dry lips are thankful for. But, it also doesn't smear too much if you top it with balm or gloss. It doesn't dry down completely, but just enough that I don't feel like I'm going to smear it all over my face- which I've done with other liquid lipsticks.
9.) Coola Mineral SPF 30 Daydream Makeup Primer– Coola makes the absolute best products, I've never been disappointed by them. This primer is no exception! It feels like silk going on your skin and makes a beautiful base for your makeup to go on top of. The fact that it's SPF 30 is also great, because it gives you the daily sun protection that your skin needs. It's a little (ok, a lot!) pricey- but worth it. It lasts forever, and I'm okay with splurging every once in a while for a great product- and you don't wanna skimp on sun protection. I think I spend more time outside in the Fall than the summer, so I've been reaching for it every day.
So, those are the products that I have been continually reaching for this month. Have you tried any of them? What were your favorites this month?