*Disclosure: I received these books from Skyhorse Publishing in exchange for an honest review- all opinions are my own.*
I know it's the end of the school year, and the last thing you want to think about is the Fall. But, us homeschool parents are already busy at work. Planning courses, gathering curriculum, workbooks, and supplies. It's like a fun little obsession for us. That's why I chose now to share these books with you.
These STEM Starters for Kids from Skyhorse Publishing are another fun addition to your homeschool curriculum. We got Engineering, Science, Math, and Art- but there are several more to choose from.
They're full of fun, engaging activities that are a great add-on to any lesson that you might be learning. My son was a huge fan of the crossword puzzles, which several of the books included. I liked that the activities are quick, but pack a lot of information.
STEM stands for Science, Technology, Engineering, and Math- and are all important concepts in learning and teaching. 
The Science and Engineering Activity Books were an excellent addition to our Science curriculum. We did a lot of the activities included in these two books.
They were an excellent way to reinforce what we learned in our lesson, by making it lots of fun! This magnet lesson was a particular favorite. And, it really made my son understand the concept, being able to see exactly how it worked. I even had a blast with these lessons!
The Art Activity Book was our favorite! If you get only one of these books, this is the one you need. Especially when you're doing a curriculum that doesn't include art- this makes a great addition.
It took basic ideas, and built on them in fun ways. It was full of facts, activities, and simple lessons that I even tried out for myself.
My son's favorite art project was definitely this activity on tessellation. He had a lot of fun creating the patterns and seeing the finished product. He sat still for the longest amount of time ever just to complete them- which is a miracle in itself!
The Math Activity Book was a little more advanced than our Kindergarten curriculum allowed, so we're saving it for 1st grade, where it will fit perfectly.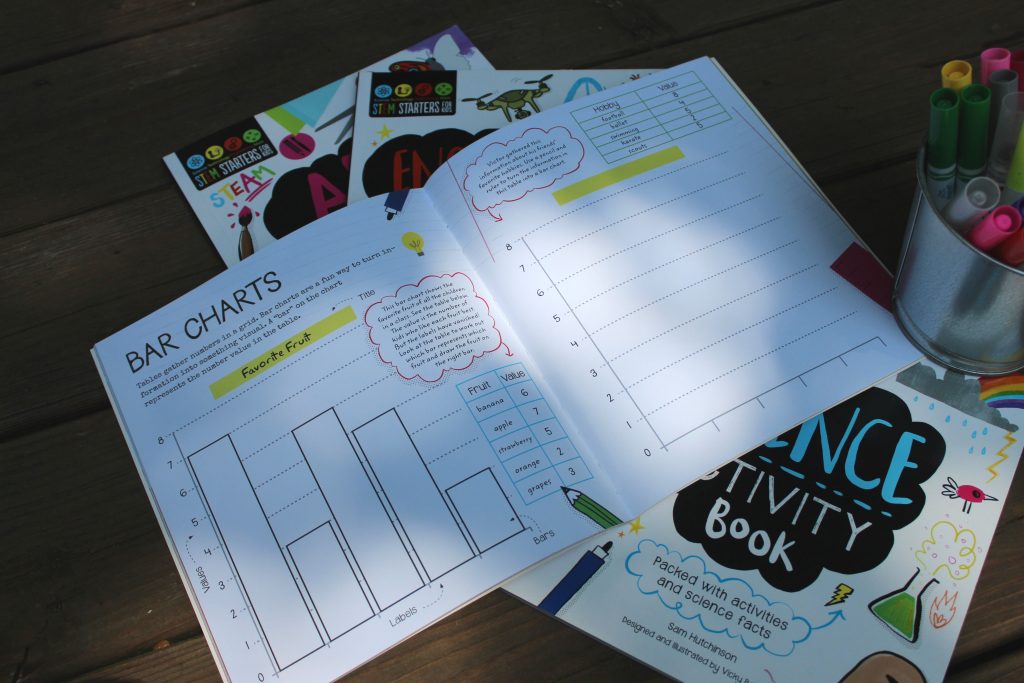 Especially since we'll be doing a lot of charting and graphing- which this book includes plenty of!
The great thing about all of these books is that, even if you're not a homeschool family like us, they come in handy. They're great to have around for curious kiddos who might like to dig a little deeper into concepts they're learning at school. Or even for helping them to remember subjects that they learned, over the Summer.
I have a STEM loving little, so these books were all a perfect fit. Check out Skyhorse publishing for all kinds of Educational books!
Don't forget to pin it for later: