Valentine's Gift for my Man
So like all men, my adorable hubby is super hard to buy for. He's not really a card guy either, but I always get him one anyway. I figured this year, I'd make him something more personal than just buying him some chocolate that I would probably just eat anyway. I love those little collections of "Love Coupons" you can buy- but they go for up to like $10…for paper…that you're going to end up tossing out anyway! So, I made him a little set of his own- with more personalized coupons.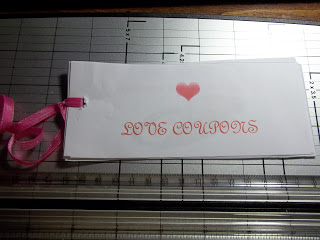 Simple enough right?!
I hate sports, so this one is PERFECT for him! (Notice my pretty mani I got today for my SIL's wedding?)
The man LOVES his golf!
Who doesn't like a good massage every now and then!?  I made quite a few more, but some are a little too spicy for me to be posting on my family-friendly blog…
Then punched a hole in it and tied it with some ribbon for V-Day. Super simple, easy, and he'll get a kick out of them I'm sure. I also bought him a little something from Wally World. A chalkboard coffee cup! He's home- will post more later!