I love decorating for the Holidays- it's one of my favorite things to do. But, for some reason, I have never really included my bedroom in the decorating. Crazy, right? However, spending money on Christmas decor when I'm already spending like crazy felt wrong to me somehow. That's why I decided to share with you how I decorated my bedroom for the Holiday Season on the cheap- no one has to know that you didn't spend a fortune to make your room look good!
First of all was bedding- I did not want to spend a fortune on bedding that I will only be using 1 month out of the year (or let's be honest, maybe 2 or 3…). I had even given up on finding affordable bedding until I happened upon this set at Walmart, of all places! I had fallen in love with a set at Bed Bath and Beyond, but it was going to set me back over $100 and I just couldn't do it, being this close to Christmas. The thought of spending that much on myself made me feel a little sick to my stomach. Mom probs. But, this adorable Christmas Sweater print was under $30. Now that I can handle!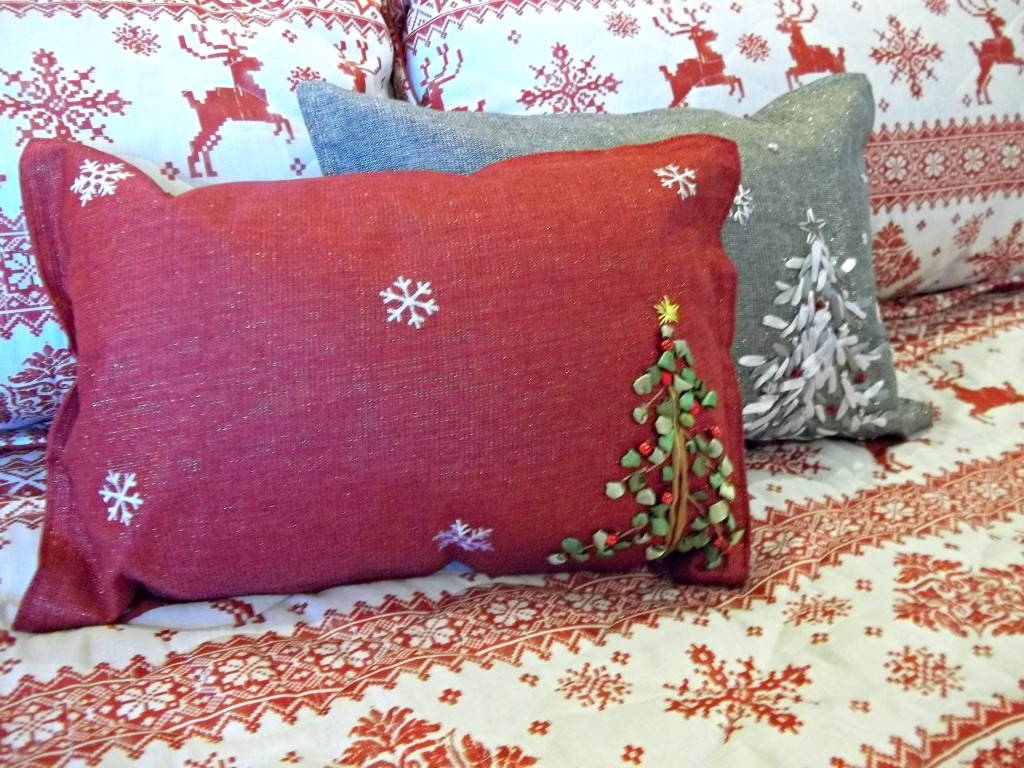 I love the rustic, cozy vibe it gives off. My little guy loves it too- and if it gets ruined, I won't weep at having lost a pretty penny. It's perfect adorned with these Placemat Throw Pillows that I threw together. They're so sparkly and pretty I'm not going to want to put them away next month.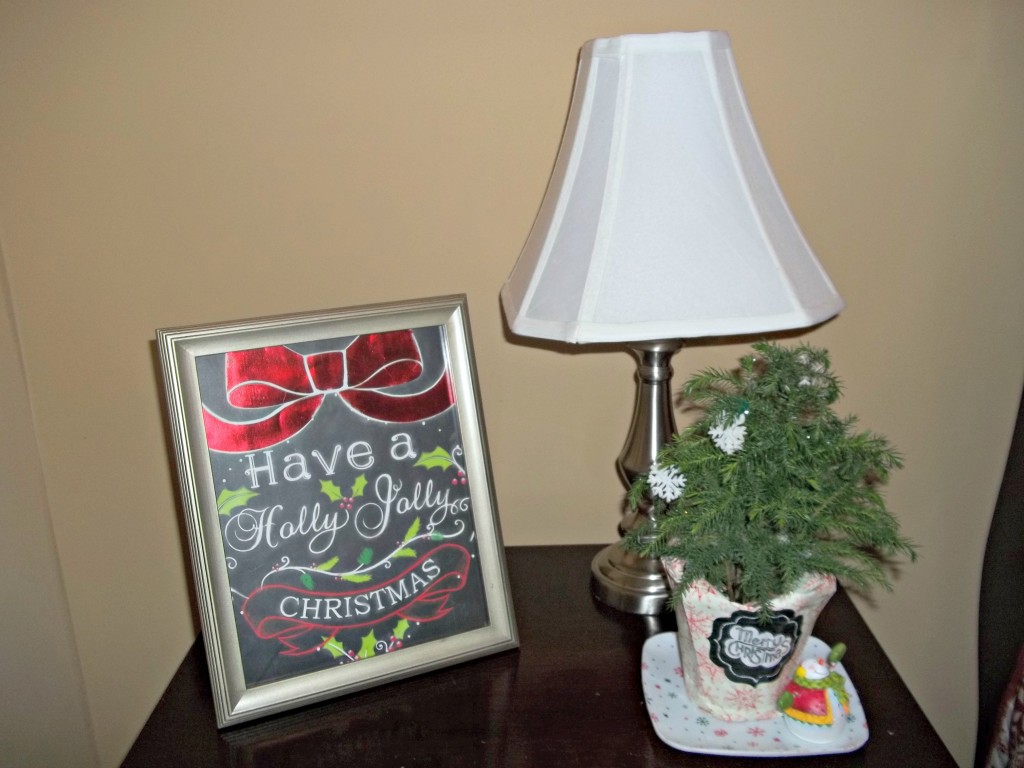 My side table even got a little love with the addition of this gift bag I cut up and stuck in a cheap frame- SUCH a fun idea to make changing out your prints quick and easy (and cheap!). This little plant also HAD to come home with me because it's so cute. Hopefully I won't kill it…
I knew I wanted to hang a mistletoe print above my bed, and I literally spent HOURS trying to find one that I liked. Some were too realistic, and some were just not right. Then I found this adorable set from Paper Heart Company. I loved the watercolor look of the mistletoe, and the fact that it came with a lettered print as well. Perfect for above our bed…you know, where the kissing happens…
Seriously, how cute is it? I loved that it was available as an instant download so I got it right away, and was able to throw the prints in any cheap frame I had laying around for an instant Holiday facelift!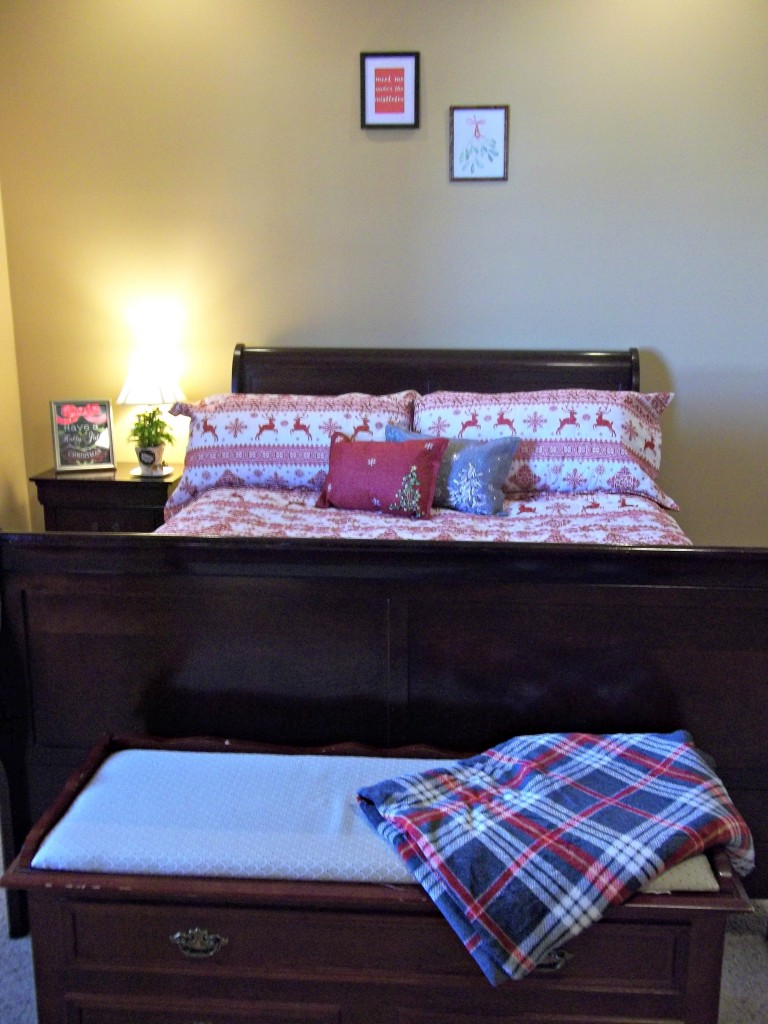 I threw a warm, fuzzy plaid throw blanket on my hope chest, and my little bed nook is nice and festive. And I don't feel bad about the cost of anything!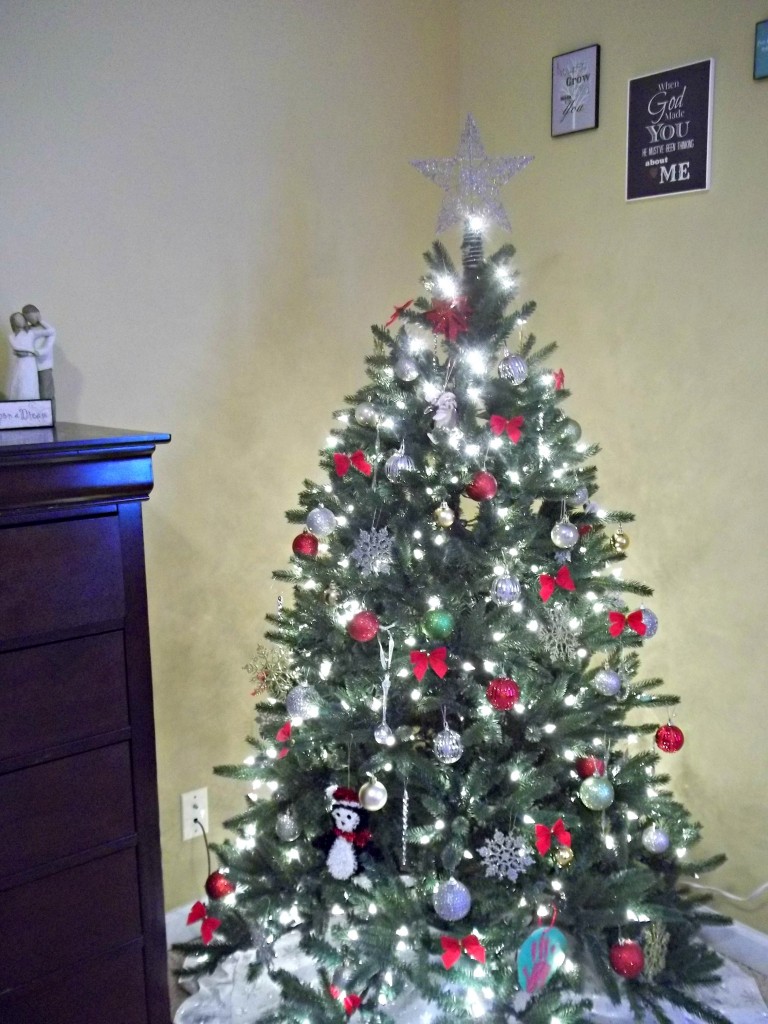 On the opposite side of the room we just threw an old tree we had in the corner, and stuck some extra ornaments on it. It isn't fancy, but it looks cute and I love the glow of Christmas lights in my room. I don't even want to turn it off when we turn in for the evening. I think I'll miss it the most once it's gone!
So, that's it- you don't have to spend an arm and a leg to get a festive Holiday inspired bedroom. Just move some things around, get your hands into some DIY and find a few cute pieces that someone else did the work for already!
How is your room decorated this season?
*Disclaimer- I received the mistletoe prints in exchange for a feature in this post. All opinions are my own!*