*disclaimer: I received free tickets to the park in exchange for an honest review- all opinions are my own*
Are you sick of hearing about our Gatlinburg getaway yet?
I hope not! Because I am loving getting to share with you all of the traveling we did.
This next place we went to was a family favorite for sure. Ober Gatlinburg was quite the adventure- a ski area and amusement park that sits atop one of Gatlinburg's numerous mountains, it was fun for the whole family.
Let me first explain to you my knee-buckling fear of heights. It's bad. I'm terrified. I don't even like riding an elevator. Guess which way my troupe decided they wanted to ascend said mountain?
Two words. Aerial Tramway.
When I saw how high up this thing went, I almost wet my pants. It's a 2.1 mile ride (10 minutes long), almost 300 FEET ABOVE THE GROUND!
But, what a view!
Disclaimer- don't be like me and forget something at the bottom of the mountain, and have to turn right back around and go down. Only to come back up again on the next tram- 20 minutes later…
This was one experience I will never forget. My Husband and son were in absolute awe. And I was so nervous, tears were streaming down my face as I snapped photos of the beautiful scenery.
But, you know what? It scared the crap out of me- but I would totally do it again! And come to find out- it's actually one of the safest means of travel- who knew?
Once you get to the top of the mountain, there is enough to keep you entertained for the rest of your day.
Countless shops, rides, attractions, food, and even a cute little wildlife encounter (think mini zoo), await you. If you're brave enough there are even ski lifts to take you even farther up the mountain (but my shaky knees couldn't take any more height!).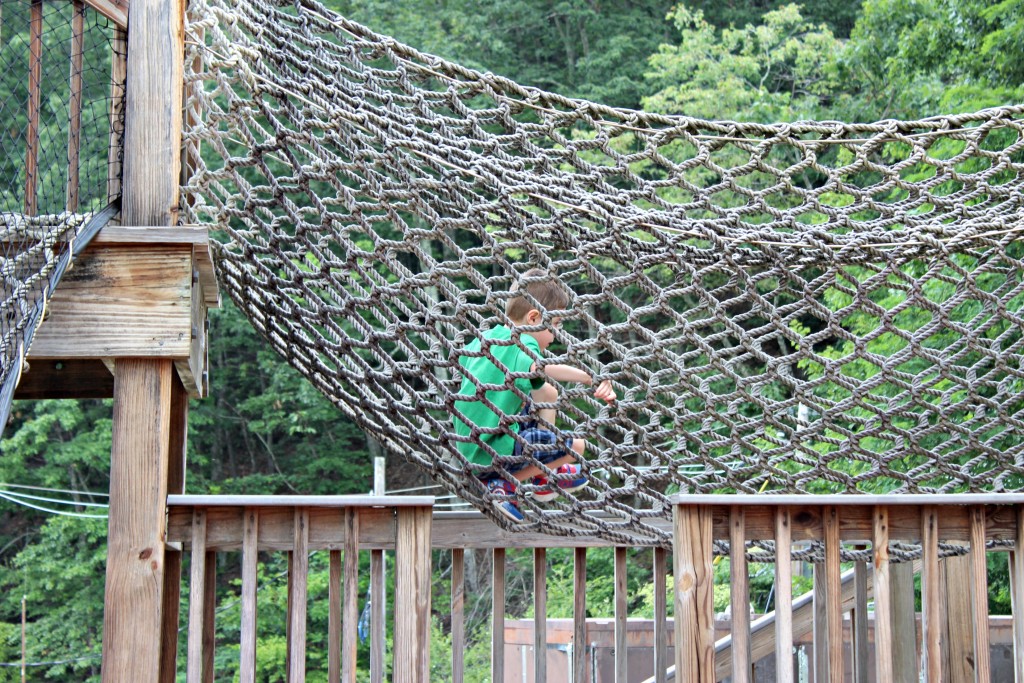 And hey- if it's winter, you could also ski. The inside even boasts year-round indoor ice skating, which I WILL be participating in next time I go!
I took about 1000 photos, and I'd love to share them all with you- but c'mon.
All I can say is, if you visit Gatlinburg, do not skip a visit to Ober Gatlinburg. You will not be disappointed. (AT LEAST GO RIDE THE TRAM PLEASE!) Bonus- if it's hot out when you go, the top of the mountain is like 10 degrees cooler. We couldn't believe how much warmer it was down at the bottom.
There's something about coming back down the mountain on the tram that makes you feel like an explorer, like you discovered something that no one else has. It was really a powerful experience.
When you get back down, you can also do a little more shopping or grab some food or coffee.
For those of you who don't want to brave the tram- you can also drive up. (Wish someone would've told me- just kidding. I still would've ridden the tram…maybe).
If we go back to Gatlinburg in the future, we will definitely be visiting Ober Gatlinburg again. My son still asks about it approximately 6 times a day. It wasn't overly busy, and we were able to do everything as many times as we wanted, without really having to wait in line- which, with a 5 year old is always a plus!
Have you ever been to Ober Gatlinburg? Or at least ridden the tram? What did you think? Which was your favorite part?