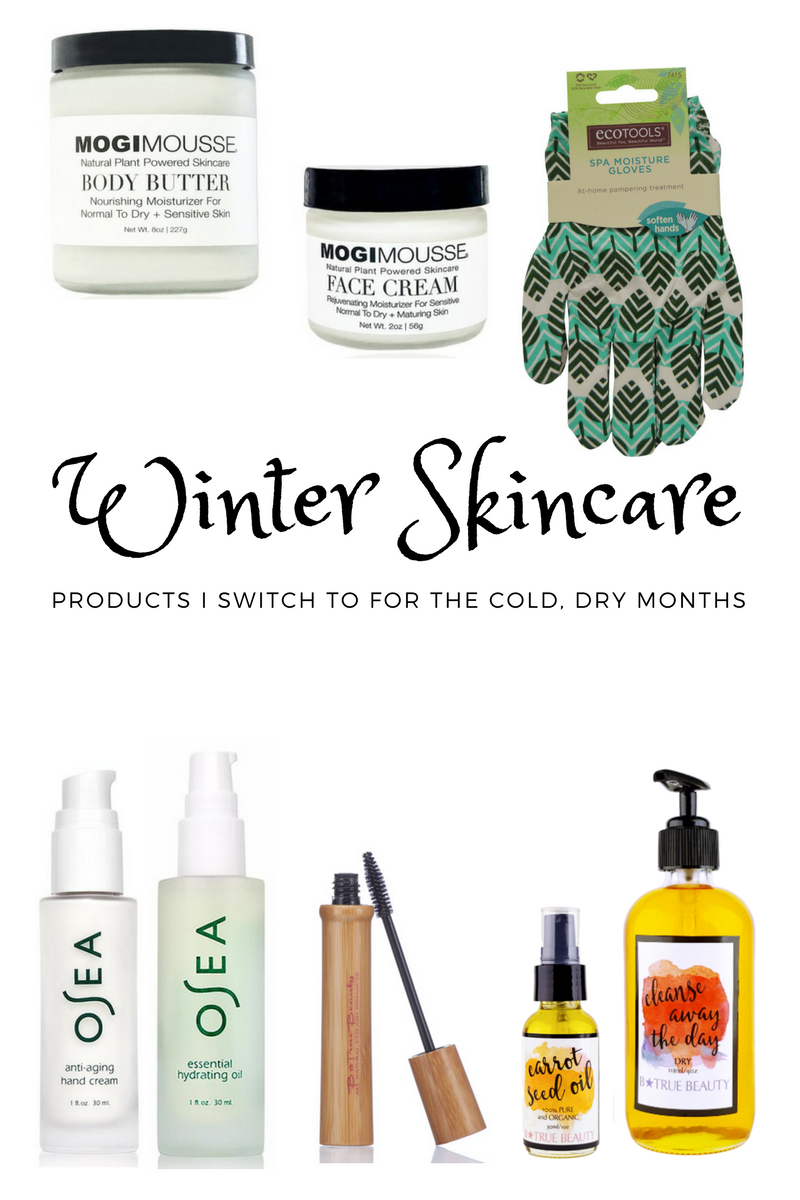 Ah, Winter.
I love your chilly mornings and blustery days. The gorgeous snow falling, icicles glistening.
But, my skin does NOT love the itchy, red, dry patches that your cold, dry air brings.
As a psoriasis and eczema sufferer, this time of year wreaks havoc on my skin. Over the past few years I've really been tweaking my skincare routine, so that the damage is minimal. My skin will never be perfect, but these products I'm going to share with you really help during these Winter months.
Mogi Mousse Body Butter has become a Winter staple in the Bishop house. I've used it the last 3 years on my dry, itchy skin. It is SUPER thick. You have to warm it up between your fingers and spread it on. But, the hydration it brings my itchy skin is outta this world! I love it. It keeps my legs and hands moisturized even on the coldest days. I apply it every time I shower, especially when I shave my legs (but, c'mon…it IS winter). Bonus- it smells like fruity pebbles to me. My legs have never been happier. It is pricey- but it lasts me all.winter.long. So, that makes it totally worth it in my book!
Mogi Mousse Face Cream is another product I LOVE for when it's really cold and dry. I add it to my nighttime routine, so that while I'm sleeping my skin gets all the moisture it craves. I have worn it during the day when my skin is uber broken out and patchy, and it works okay under makeup. But I would only recommend that if you have super dry skin like me. It's definitely another Winter staple I just can't make it through the season without! If you like to stick to one brand, they also have an amazing body oil and scrub that I love (y'all know I love a good sugar scrub!).
Adding gloves while I'm sleeping is also something I do pretty much every night in the Winter. My psoriasis is pretty bad on my hands when it's cold, so this helps me to get an extra concentrated boost of hydration while I sleep. I use these Eco Tools ones that used to be available at<arel="nofollow" href="https://www.iherb.com/pr/ecotools-spa-moisture-gloves-1-pair/25459″ target="_blank"> iHerb, but it looks like they're discontinued. But, pretty much any cotton glove will work. Make sure you slather on some good hand cream, pop these babies on, and you'll wake up with beautifully moisturized digits.
Speaking of hands- this new Anti Aging Hand Cream from Osea Malibu has been a game changer. It is chock full of antioxidants, helps smooth out rough spots, and even helps fight signs of aging. I always joke that I totally have 'old lady' hands, and I've noticed a difference since I've been using this. I may only be 30, but I'm already getting age spots. So I'm gonna fight those now, the earlier, the better! I put it on under my gloves at night, and use it one or twice during the day as well. The size is convenient enough to pop into your bag- but I leave it on my nightstand so I never forget to apply it.
I've also been loving this Essential Hydrating Oil from Osea. I add a couple of drops to my favorite daily moisturizer, and it helps inject just a little more moisture into my skin without making me look and feel greasy. I love the consistency, it mixes perfectly. It's a beautiful, light oil that makes me glow without making me shiny. It's definitely a new Winter favorite- but is light enough to be worn any time of year.
B True Beauty is one of my favorite brands for when my skin is thirsty. I also like to add an oil cleanser to my routine during the dry months, because it cleans my skin without stripping it. This Cleanse Away the Day for Dry Skin is perfect for this! It removes all of my makeup, and cleanses my skin without taking out all of my natural oils. But, it doesn't leave me feeling greasy either. It's a nice happy medium. If you love oils for moisture too- I would also recommend their Graceful Beauty Oil as a moisturizer following the cleanser.
I just recently started adding this carrot seed oil to my routine as well. It's 100% percent pure and organic, and easily absorbs into my skin, giving me moisture without greasiness. I've also read that carrot seed oil is good for all skin types, but helps to heal psoriasis and eczema. I've been loving using it post-masking or anytime my skin needs a little more moisture after cleansing, before moisturizing. It is also a multi-purpose product that can be used all over your body- skin, hair, nails, and more!
Last, but definitely not least, I'm really enjoying this All Natural Eyelash Enhancer. It nourishes and conditions my lashes (and brows!) which also get drier and more brittle in the cold. I've been putting it on nightly before going to bed, and love the added benefits. My lashes have become more sparse over the years, and I'm hoping this helps!
All of these products will be on repeat this Winter, and let's face it, Spring too!
What types of products do you use in the Winter? Have you tried switching up your skincare routine?