* I received some of these board games in exchange for sharing my thoughts with you- others I purchased with my own money. All opinions are my own. This post contains affiliate links.*
I don't know about your family- but ours LOVES board games. My Husband and I both grew up in households with large families, and we all enjoyed a rousing game of Scrabble and a table flipping ending to a heated game of Monopoly. As a homeschooling family we even use board games to help with math and reading skills. The great thing about board games is they're fun for the whole family, educational, and a great way to spend screen-free time together. I thought the Holidays would be a perfect opportunity to share some of our current favorite board games with you.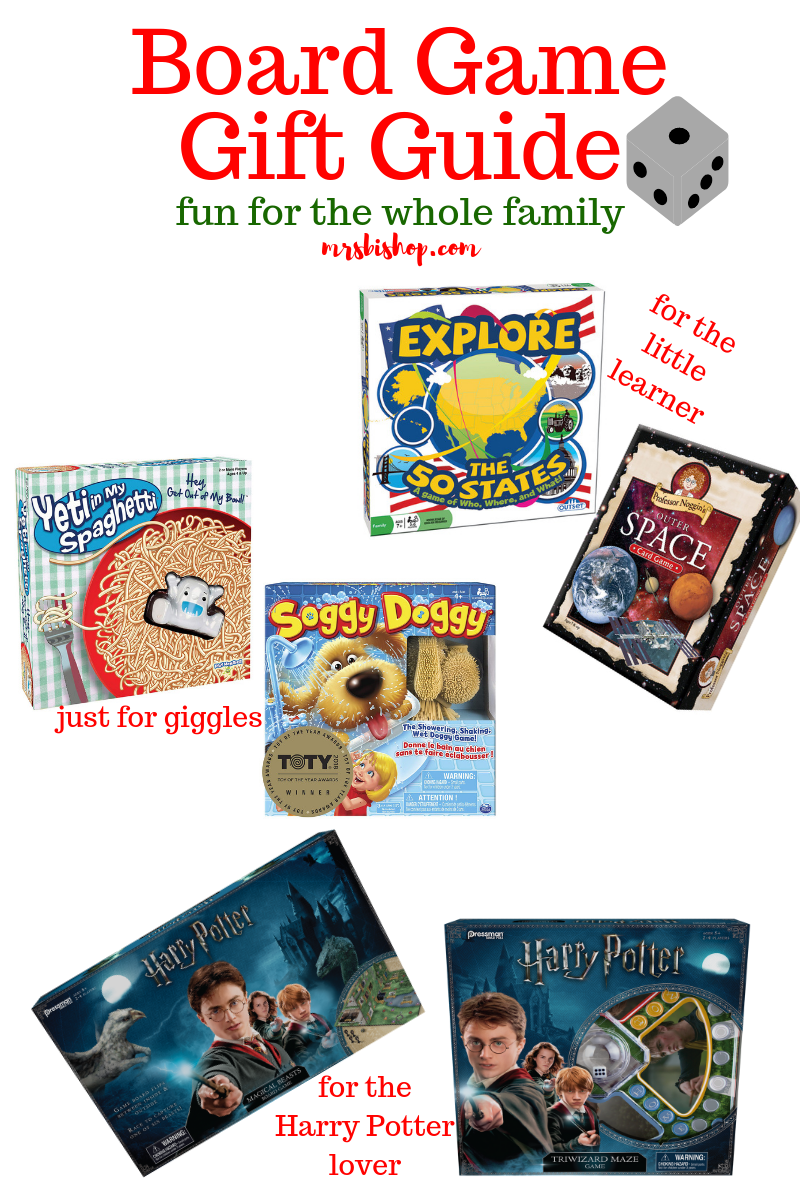 Whether you're looking for educational games, games just for fun, or you're a fellow Harry Potter lover, I've got you covered!
Like I said, board games are a great way to supplement your curriculum if you're homeschoolers like us. Or a great way to reinforce what your kiddos are learning at school-without feeling like homework! That's why these games from Outset Media are a great choice.
Explore the 50 States teaches interesting history and geography facts about each state that makes learning about our country fun.
While Professor Noggin's Outer Space Card Game makes learning about space fun with trivia, true/false, and multiple choice questions- with easy and hard skill level questions. Making it fun for all ages.
Yeti in my Spaghetti never fails to end in an eruption of giggles. It's a cute and simple game that's great for kids. But, the adults also get involved- trying their darndest to figure out the best way to play. This one has been on repeat the last 2 years in our home.
I don't know why- but with kids, the messier the game the better? Soggy Doggy is great for that. While I'd rather not play- I know a bunch of kids that love to!
Anyone else's kids obsessed with Harry Potter? OR maybe you are! (We all are!) This Triwizard Maze Game from Pressman Toy is fun for all ages. Isn't there something about those fast-paced pop'n'race style games that makes everyone get excited to play?
The Magical Beasts Board Game is a fun way to re-live your favorite Harry Potter characters, 'featuring a new swinging-leaf feature that allows players to move between 2 separate game boards'. It's different than any other board game I've seen.
I hope that this list helps make your Holiday shopping a little simpler! What board games does your family love?
I've linked all of these games to my Amazon Storefront under the 'Family Fun' tab to make it a littler easier to add them to your shopping list!