There's just something about that smell in the air, the cool breezes, and the crunch of leaves underfoot. Fall is by far my favorite season. It also seems so much shorter than the other 3 because of this. It's the time of year when I can't wait until Starbucks brings back the pumpkin spice latte. Or our local ice cream shop, Jiffy Treet, brings back the pumpkin pie cyclone…it's like a blizzard, or mcflurry, or whatever depending on where you're from.
If you hadn't noticed, it also seems that I have a love of anything pumpkin. Last week I made some really awesome Pumpkin Spice Cupcakes with Cinnamon Cream Cheese Icing. I got the recipe from
allrecipes.com.
They're delicious if you take some of the suggestions made from other bakers on the site.
Back to my love of fall….I'm from Indiana, and we have the most unpredictable weather. This fall has been unnaturally hotter than usual. It's still nice, but a lot more hot than it normally is. Each day I wake up and can't tell whether I need a tee-shirt or a sweater. It's nuts. We also had a crazy thunderstorm yesterday that had tornado sirens going off  and some crazy winds and rain. Other than that though, it's been a beautiful fall. Where we live, which is more in the country, the leaves have all changed to beautiful shades of red, orange, and yellow. I love the area surrounding us because it's so full of trees. Each day there's a beautiful picture outside of my window, almost like God took a paintbrush and painted the autumn scene.
Such a random post, but I can't help but be thankful for yet another beautiful fall and looking forward to yet another blessed Holiday season.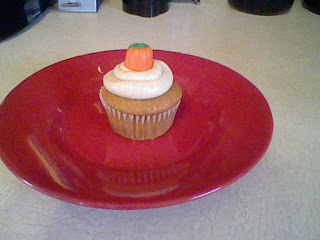 Here's a photo of my pumpkin spice cupcake- aren't they adorable?!