*I received these pieces in exchange for an honest review- all opinions are my own. I only share products I love and would purchase myself.*
As a SAHM, my budget is important.
I don't like to spend a lot of money on clothes. I like to buy staple fashion pieces that I can wear again and again. I also like pieces that transition to more than one season. That's why I'm obsessed with all of these pieces from the Love Kuza Summer line.
This Cottage Floral Challis Swing Dress is the perfect example! It's super lightweight and breathable. Which makes it perfect for this HOT weather we've been having. It's the perfect length too. Right above the knee on my 5'2″ frame.
The back detail is flirty and fun. And I love that it's a tank dress, but the straps are thick enough I can wear any bra. It's seriously the most comfortable dress I own, it feels like night clothes.
But, once the weather cools off I can add a cute belt and a jacket, maybe my favorite pair of booties- and I have a piece that works for multiple seasons! More bang for my buck (and more opportunities to wear this insanely comfortable dress!).
I'm IN LOVE with this Oversized Chiffon Floral Blouse. First, I'm obsessed with the blush-pink color, and the splashy blooms. It's gorgeous in person!
It's oversized, and again, oh-so comfortable. It's the lightest material, and didn't have me melting on the sweltering day I took these pictures. But, this Fall it will be getting paired with some cute leggings and making a comeback!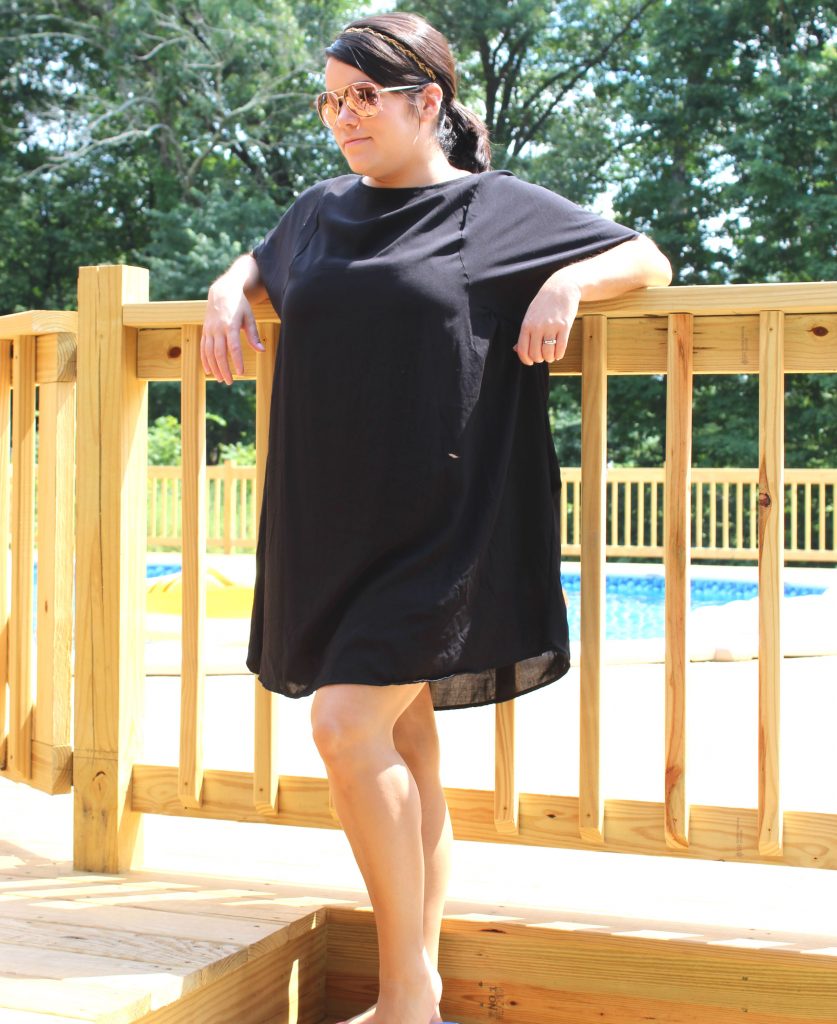 Can we talk about this Solid Challis Dress? It's the lightest basic black dress you'll ever get your hands on! It feels pretty much like you're wearing nothing at all- which made it a great cover-up this Summer at the pool.
Did I mention…pockets?! Give me all the dresses with pockets and I'll be one happy Momma. Pocketed dresses are one of my staple fashion must-haves, from here on out.
Mom tested- flamingo approved! I'm imagining it with a cute brown belt and brown booties, and maybe even a cute wide-brimmed hat for this Fall. It will be perfect for staying cool at all of the Fall festivals!
They also sent me this Cosmetic Layer Chiffon Top, which you're going to have to wait and see in pretty much every beauty video I film from here on out because it's PERFECT!
I am obsessed with ALL of the pieces that Love Kuza sent over for me to share with you- they're all so comfortable, which makes them absolutely perfect for the busy Mom on the go.
They also have great Accessories, so you can get everything for a great outfit in one place. Best of all, they're very affordable- even more so if you pick staple fashion pieces that transition through the seasons like I did! I can't wait to see what they've got coming for Fall!
What piece do you love the most? I've got my eye on ALL of their outerwear for the cooler months!
Pin it for later: