I've been refreshing our house a little bit. I feel like I always do that in the Winter months, because being stuck inside and staring at the same stuff day after day will make you want to liven things up a bit! Sometimes, it's as simple (and free!) as moving some things around. I switched our couch and loveseat for the Holidays and ended up loving them that way, so they're staying for now. I also rearrange bookshelves and move tchotchkes pretty often so I don't get bored. Lately, I've been adding in a few inexpensive things here and there that I've gotten to make things a little more fun- and I wanted to share some of my recent home decor finds with you!
IKEA
I *finally* snuck in an IKEA trip this past weekend. I really went to find Steven some new shelves for his bedroom. But, guess what we came home without? (Having a small car doesn't work well when hauling large items…) But, I did come home with a few things I've been wanting, that aren't only beautiful- they're also functional. Making them my favorite type of Home Decor.
These RASKOG carts are amazing! I have a similar one I got from Target that I use for Homeschool stuff– but the IKEA versions are my favorite. BONUS- the blue one that I got is on sale for only $19.99 in store. Making it totally worth the trip! I'm using the newest one as my TBR cart. Because I have been collecting loads of books for our new bookish venture and needed a place to keep them organized. This one made its happy home in my office, and I'm SO glad I bought it!
Have I mentioned how much I love reading? Once or twice??? For YEARS I have been searching high and low for the perfect reading lamps for my Master Bedroom. But, I don't like spending an arm and a leg, and I have a few specifications- I wanted them to be pretty, match my theme, and I did not want to have to get my lazy butt outta bed to turn them off. That's where these adorable sconces came in. The RANARP Wall/Clamp Spotlights were the perfect solution! They were the right size, and I didn't even know I needed this- but, the cord is decorative so it doesn't look ugly hanging down behind my headboard. Win-win! (Also don't my beautiful art prints look gorgeous in these super cheap and chic gold frames?!)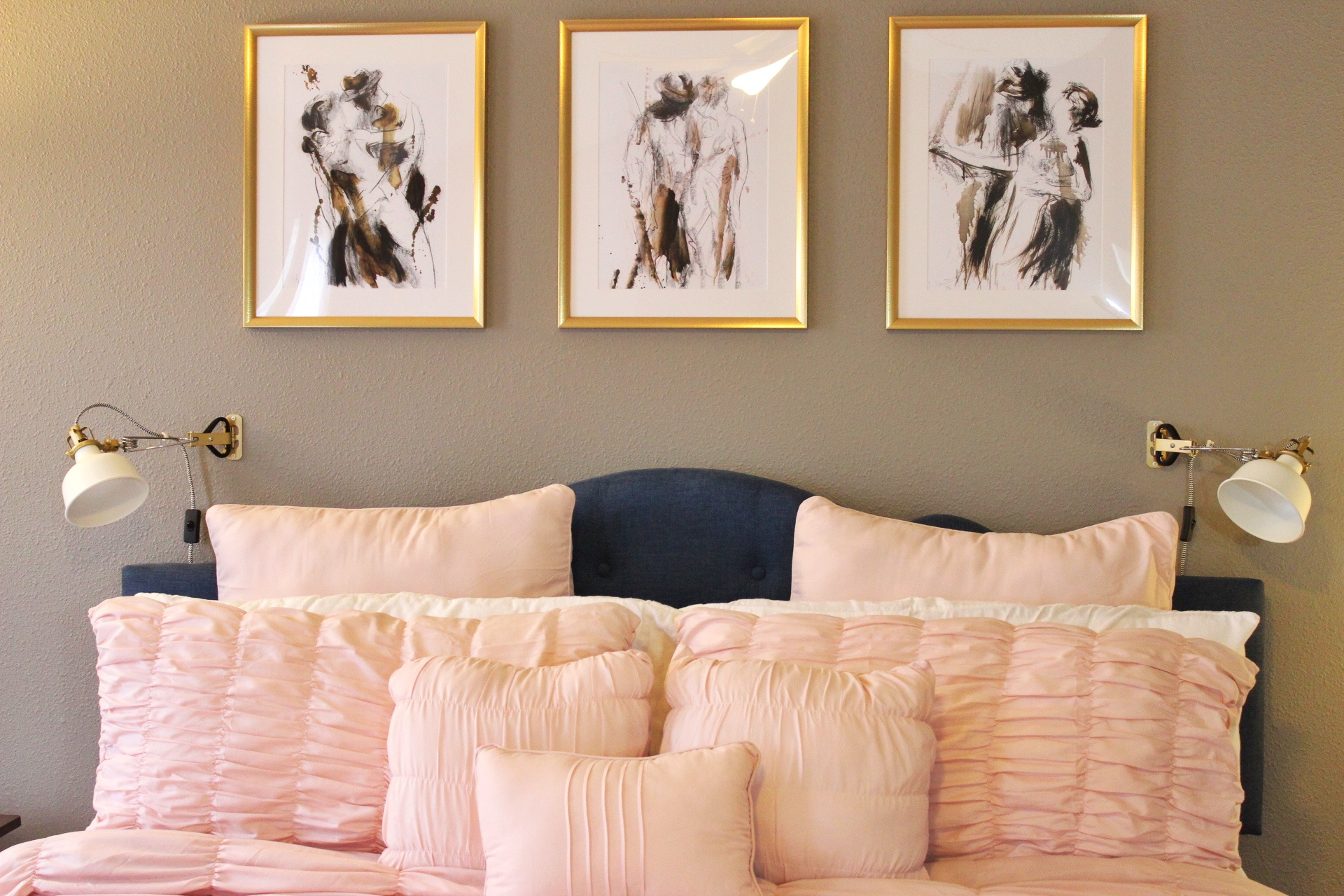 The rest of my IKEA trip I filled my cart with cute kitchen items and candles. I always stock up on their candles! But, these VALDOFT candles were extra cute in their pink glass! I'm only sad that I only grabbed two!
Anthropologie
Let me be honest, I don't shop at Anthro often because $$$. But, on occasion I find something that I just need and I splurge. Their Capri Blue Volcano candles are my favorite scent EVER. And I found them in store 20% off. So I bought one, just ONE for my office. But, I love it! I'm counting it as functional- because it's beautiful and smells nice… I also got my really cute pink globe there over the Summer in the clearance section for like $8. So, never skip the clearance while you're there!
I'm also using books as decor now, because that's definitely functional- I can read them! But, pretty covers make great shelf decor as well. This doesn't have to be expensive either. I got this gorgeous The Great Gatsby from Chiltern for Christmas and snagged the Puffin in Bloom copy of Little Women at Books a Million for a great price. They make me happy every time I sneak a peek of them on my shelves, and I can revisit an old classic any time. Don't forget pretty books make great gifts too!
I've loved sharing my latest home decor finds with you! What are some things that you have around your house that you love? Are they functional and beautiful- or an item that you just fell in love with? I have lots of those too!