Book Series for Rambunctious Boys
*This post contains affiliate links. See my Privacy Policy for full details.*
Since we're stuck in an apartment right now, during an epidemic- we've had to get creative with how we keep ourselves entertained. Especially now that schooooooools ouuuuuuut for Summeerrrrrrrrrrrrrrrr! Sorry. I digress. That means we're doing a LOT of reading. And honestly, t.v. watching and video game playing. But, I also want to make sure that not all of our time is spent digitally. So, we turn towards books a lot.
If you have a rambunctious, hyper active kiddo like me, sometimes getting them to sit still long enough to read can be difficult. So, Steven and I sat down and wrote down a list of book series that hold his attention. He was excited to share some of his book picks with you!
Some of these are books he can sit and read in one sitting by himself- and they always keep him hooked and giggling out loud. And I also picked some books that he's enjoyed listening to out-loud as well. I think even you will enjoy reading them too!
First, if your kids have a hard time sitting still like mine; fast paced and fun graphic-novels are the way to go. With silly pictures and less writing per page, they're perfect for shorter attention spans. Steven's favorites are The Bad Guys, and a brand-new favorite Narwhal and Jelly. (He's read 3 of them today…) Both of these are great because they're short and sweet, but will encourage your kids to keep on reading. I linked a couple of the book box sets because you get a better deal that way- but they didn't have the sets that included ALL of them available. But, these are a great jumping off point.
Stink: The Incredible Shrinking Kid has also been a favorite around here. They're slightly longer, but not too crazy. Still plenty easy enough to read for newer readers. They're funny, cute, and they feature one of our childhood favorites, Judy Moody. Stink is her little brother! My son loves these books! He's read 1-9 and he has the next one at the ready.
Now, for read-alouds that the whole family will enjoy! My Husband has read 2 of the books in the City of Ember series with Steven. Steven likes that they're adventure books, and that the world is totally different from ours. You can also check out the City of Ember movie- which we all enjoy watching.
We saw Escape from Mr. Lemoncello's Library on Netflix on a family movie night- not even realizing that it was a book series. It was a fun, age appropriate movie with lots of silly (and just a teensy scary) antics. When I saw the book series available on my Libby app, I was excited for Steven to give them a listen. He's on book number 2 now, and he's really enjoying them. Bonus- the narrator is great, so I don't have to read this one out loud!
Last but not least, some of my childhood favorites- anything from Roald Dahl. These are some of the quintessential books from all of our childhoods and they're still relevant today. The BFG? I still laugh when I read that one! Steven loved Charlie and the Chocolate Factory and Charlie and the Great Glass Elevator (which he also listened to as an audiobook.)
Some runners-up include the Treasure Hunters series, which we're easing into. He enjoys them, but gets slightly overwhelmed seeing how long they are. But, the words per page is still lower and they have great photos. So, they still make the list!
Overall, if you're having trouble getting your active little ones into reading, I hope this list is a good jumping off point for you! And please leave me recommendations in the comments. We will never turn down a good book!
Pin it for later: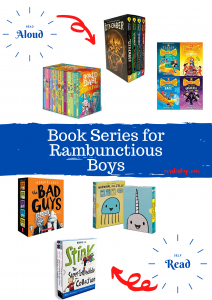 Check out my latest posts: