Spooky Books for Fall: If You Love B Horror Movies & Slasher Films
*I received some of these books from publishers and others I purchased with my own money. All opinions are my own. This post contains affiliate links. See my full Privacy Policy for details.*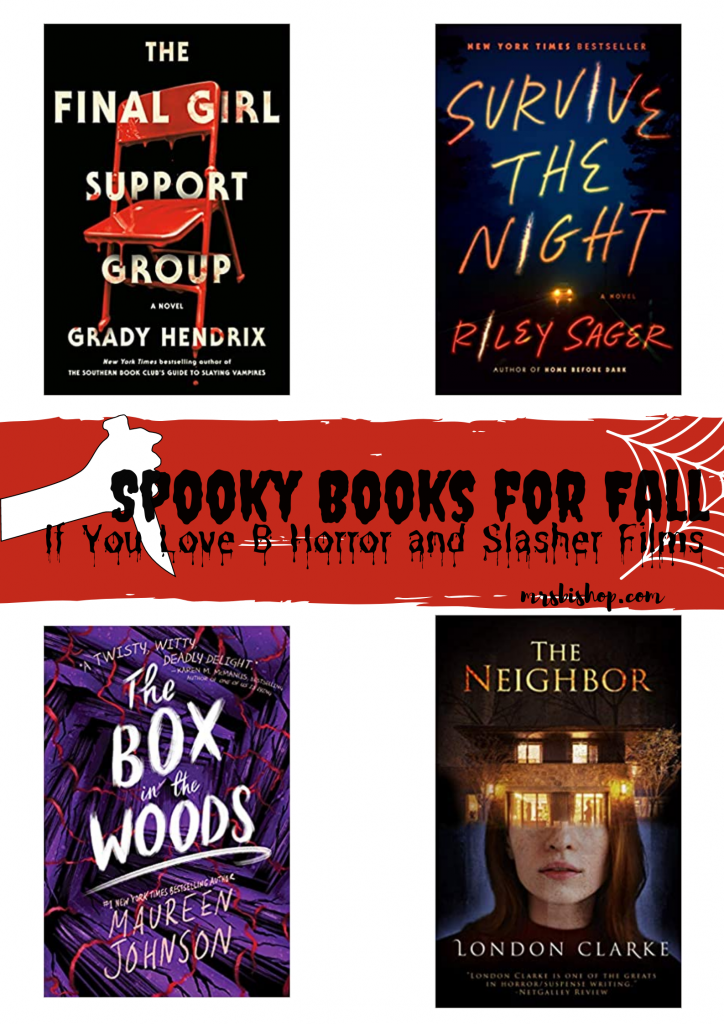 I am a sucker for B horror movies and slasher films. Give my the OG trinity of horror- Freddy, Jason, and Michael Myers over any villain of today. Do you love bloody, badly written spooky movies from the 70's and 80's? Have you watched Evil Dead, Nightmare on Elm Street, Friday the 13th, and Halloween more times that you can count? Just me? Well, if you are a lover of these horror 'classics', I've got some great book recommendations for you this Fall!
The Final Girl Support Group has been on my TBR since it was announced. Grady Hendrix has become kinda the new-ish king of campy, weird, and un-put-down-able horror novels. I loved The Southern Book Club's Guide to Slaying Vampires last year, and mentioned it in my Spooky Books for Every Type of Reader post from last year. And, not gonna lie- I may have liked this one even more!
Burnt out Final Girls and lots of creepy movie references, a killer out to get them all? Perfection. Grady Hendrix has such an oddball way of writing that I just can't quite read fast enough. I had this one both on audio and physical- which, you should definitely read the physical copy so you can see all of the notes, newspaper clippings, interviews, etc. But when I didn't have time to read, I'd stick my headphones in so I could continue the story. I read it in 2 days and am still thinking about all of the characters you meet in this book. Nods to some of my favorite horror films from my childhood are peppered throughout. You never quite know until the very end what is going to happen, but it's a crazy ride getting there!
I was SO excited when a new Riley Sager novel was announced- and I purchased Survive the Night ASAP! Sager has quickly become one of my new favorite authors and I now own all of his books…
Riley Sager, in my book, ranks up there in suspense and horror on par with Stephen King. His books always hook you and keep you up half the night reading, and/or afraid to sleep. I really enjoyed Survive the Night and read it in 2 sittings. The story, being set in the early 90's was perfectly nostalgic. And it needed that setting, because it definitely would not have worked out so well if the characters would've had access to cell phones, gps, and Ring doorbells. Haha!
I hate that so many people complained that they were able to figure this one out, or that the twists weren't big enough. Yes, it was a little easier to guess the ending. But, I mostly think that's because now that we've become avid Sager fans- we know he's the king of plot twists, so we're actively searching for them. I didn't love the main character, and her actions were flawed- but who knows what we would do in a similar situation? So, this still ranks high on my list. Also, the movie references were perfect for a movie lover like myself. As always, I will pretty much auto-buy anything Sager comes up with next. Home Before Dark still holds its title as my fave Riley Sager, but this one was a good, quick read.
The Box in the Woods is the 4th book in the Truly Devious series by Maureen Johnson, but I think it totally stands on it's own!
I binge-read this book in one sitting!
I was a little skeptical going into this one because I didn't read the description before diving in. I loved the first Truly Devious book, but the next two were just okay for me. I was worried that the mystery would be played out and wasn't sure about a 4th book in the series. But, little did I know that we were getting handed a whole NEW mystery! Stevie (aka Stephanie- obviously I'm a fan with a heroine who shares my namesake) gets invited to a Summer camp to solve a 70's slasher movie-type murder. Since you know I am a sucker for old school B horror movies- I was super intrigued by the premise. I couldn't put this book down and devoured it! You get the same rag-tag group of friends, a new mystery- and a whole set of new characters from the past. I was a big fan and know that you are all gonna love this one too.
The Neighbor was a book I came across scrolling through NetGalley and it came as a spooky surprise!
This one had me hooked from the very beginning and I could not put it down. I read the entire thing in one sitting! (Apparently I do that often when it comes to Thrillers…) London Clarke does an amazing job building suspense and giving you the chills. You just have to see what happens next. My absolute favorite type of thriller/horror novel is one in which you can't tell if the main character is crazy, or there is something sinister going on- and this book delivers all of the suspense.
Add in kids doing creepy stuff, a hot neighbor who we don't know anything about, and a group of friends who like to gossip, and you have the recipe for a good read. Living in a neighborhood a lot like the one described kicked up the creep-out factor even more for me. So if you're looking for a sort of domestic thriller with some supernatural elements, this one's for you. It reminded me a lot of The Book Club's Guide to Slaying Vampires- in the best possible way. Just a lot less gory, if that's not your thing. So, if you enjoyed that one, pick this one up next. I'm definitely going to pick up some more books by London Clarke after giving this one a go.
I hope this list has my fellow B horror movies and slasher lovers adding some new reads to your TBR for this Fall! Give me all the creepy recommendations in the comments and let me know what's been your favorite spooky read so far this year!
You may also like: Spooky Books for Fall- Crazy Chick Lit and stay tuned for some more spooky book lists this month!
Pin it for later: